Pierre Auger Observatory (AugerPrime)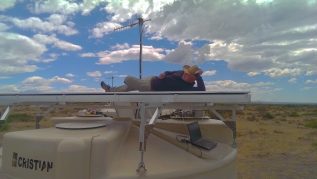 Physics

Astroparticle physics
Quest for the still unknown origin and acceleration of cosmic rays
Measurement of the spectrum and composition of cosmic-rays
Upgrade ongoing for a better determination of the primary particle type
Where do Ultra-High Energy cosmic-rays come from?
Which process is responsible for their acceleration?
Detector and Technology

The world largest (3000 km²) cosmic-ray detector located in Argentina
Sensitive above several 100 PeV
Water-Cherenkov detectors (Auger)
Scintillator detectors (AugerPrime)
A prototype scintillator array using SiPMs
Possible topics for Bachelor- and Master-theses

Is the GZK effect responsible for the cut-off at the highest energies? Chemical composition using AugerPrime and Deep Learning
Is the galactic center responsible for cosmic-rays on Earth? Search for UHE Photons with machine learning
Search for photon signals with the first AugerPrime detectors
First G-APD Cherenkov Telescope (FACT)

Copyright: Miguel Claro
Physics

Astronomy at TeV energies
Possible origin of cosmic-rays: Active Galactic Nuclei
Time evolution of their spectrum (monitoring)
What drives the violent behavior of these objects?
What process is responsible for the energy transfer?
Detector and Technology

Imaging air-Cherenkov telescope (IACT) with 1440 pixels in La Palma (Spain)
The first IACT using SiPM (G-APD) as light sensors
Image analysis
Data analysis of long-term light-curves
Possible topics for Bachelor- and Master-theses

Search for triggered transient events: Improved background suppression using Deep Learning
How does the spectrum change with flux? Improved energy resolution using Deep Learning
Never seen before: Search for periodicity in Active Galactic Nuclei
High Altitude Water-Cherenkov Observatory (HAWC's Eye / FAMOUS)

The HAWC Observatory (J. Goodman, Nov. 2016)
Physics

Astronomy at TeV energies
First all-sky detector (first all-sky map)
Ideal to monitor the sky for transient events
Detector and Technology

Huge Water tanks located near Puebla (Mexico)
Compact imaging air-Cherenkov Telescopes (HAWC's Eye / FAMOUS)
Improvements expected from the combination of both technologies
First hybrid detector of this kind
Possible topics for Bachelor- and Master-theses

What is the performance we get from the hybrid system? Improvement of Background suppression and Energy resolution using Deep Learning
First detection of a source in the hybrid setup: First hybrid measurement of the Crab Nebula
Semi conductor photo sensors (SiPM)
Overview

Semi conductor based photo sensors
Novel technology
Very robust
High photo detection efficiency
Possible topics for Bachelor- and Master-theses

First measurements with a digital SiPM
Measurements of the recovery time of single G-APD cell on the sensor
Unfolding of high light yield traces
Simulation of SiPM properties